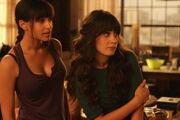 This is a transcript for S01E05 of New Girl :"Cece Crashes".
Original air date USA: 1 November 2011
Original air date UK: 27 January 2012
Current IMDb rating: 8/10 (11/04/14)
Aixa Maldonado - Mexican Vendor (as Aixa)
Sean C. Graham - Happy Man
Kassie Hight - Happy Woman
Warren Sweeney - Unhappy Man
Jeanette O'Connor - Unhappy Woman
Ad blocker interference detected!
Wikia is a free-to-use site that makes money from advertising. We have a modified experience for viewers using ad blockers

Wikia is not accessible if you've made further modifications. Remove the custom ad blocker rule(s) and the page will load as expected.