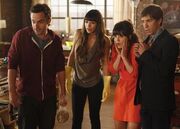 This is a transcript for S01E06 of New Girl :"Thanksgiving"
Original air date USA: 15 November 2011
Original air date UK: 10 February 2012
Current IMDb rating: 7.9/10 (11/04/14)
Chaz Marcus Fleming - Pilgrim Boy
Troy Doherty - Frankenstein Kid
Jerrin Padre - Pumpkin Kid / Native American Kid
Ada-Nicole Sanger - Werewolf Kid
Christian Anderson - Man in Line
Transcript
Edit
Ad blocker interference detected!
Wikia is a free-to-use site that makes money from advertising. We have a modified experience for viewers using ad blockers

Wikia is not accessible if you've made further modifications. Remove the custom ad blocker rule(s) and the page will load as expected.