New Girl



Genre

Sitcom

Created by

Starring

Opening Theme

"Hey Girl" by Zooey Deschanel

Country of Origin

United States

Language(s)

English

No. of Seasons

5

No. of Episodes

116
New Girl is an American television show that premiered on September 20, 2011. It stars Zooey Deschanel, Jake Johnson, Max Greenfield, Lamorne Morris, and Hannah Simone. On September 28, 2011, after two episodes aired, Fox ordered an additional 11 episodes to the initial 13-episode order, bringing the first season to 24 episodes. Fox renewed new girl for a 25-episodes Second season, which premiere on September 25, 2012 and Ended on May 14, 2013. The third season premiered on September 17, 2013 and ended on May 6, 2014, this season consists with 23 episodes. On march 7, 2014 Fox renewed new girl for a fourth season to premiere on Fall 2014.
The series stars Zooey Deschanel as Jessica "Jess" Christopher Day, a bubbly, eccentric teacher in her 20's who is trying to get over her breakup with her boyfriend after he cheats on her. She eventually finds a new place to stay when she moves in with three young men: Nick, a law-school-dropout-turned-bartender; Schmidt, a white-collar worker who believes he is God's gift to women; and Winston, a former basketball player who has just returned from a 2 year stint in Latvia where he played pro-ball. Rounding out this unlikely bunch is Jess's street-smart model friend, Cece.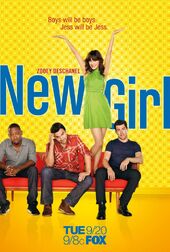 Cast and characters
Edit
External links
Edit