Welcome to the New Girl Wiki!
Who's that girl? It's Jess! This wiki is all about the Fox television series New Girl.
Last Episode
Season 4, Episode 1 The Last Wedding
Aired: September 16, 2014
The gang attends yet another wedding that they have been to this summer. While there, Jess competes with Kat (Jessica Biel), an overachieving scientist for the affection of Ted (Reid Scott), the best man at the wedding. Schmidt tries to convince Nick to take part in a foursome with two other women.
Next Episode
Season 4, Episode 2 Dice
Airing: September 23, 2014
Schmidt tutors Jess in the not-so-fine-art of dating via mobile apps. Meanwhile, Winston is desperate to make a good impression on his fellow police cadets, which backfires when Nick, Coach and Cece show up at a party thrown by fellow officers.
Featured Media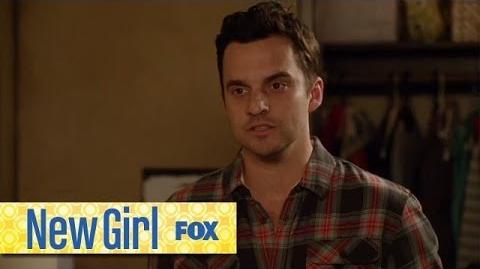 </center>