They first met in Pilot, share their first kiss in Cooler, and after, they start to have feelings for each other. In Elaine's Big Day, they start a relationship.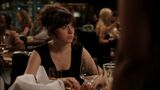 In the first episode, '
Pilot
', Jess moves in with Nick,
Schmidt
and
Coach
. They talk at the bar about getting dumped - Jess tells him that he can't pretend it didn't happen. At the time he is annoyed and makes fun of her singing, however at a party he takes her advice on board and asks
Caroline
- Nick's ex-girlfriend - why she dumped him. He later rushes to a restaurant where Jess is getting stood up and pretends to be one of her boyfriends along with Schmidt and Coach. He sings 'Time of My Life' to her.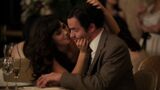 When Nick sees Jess in her dress, he thinks that she looks great. He says that he will not do the chicken dance.
At the wedding, they walk together with arms linked. Jess pretends to be Nick's girlfriend. They make Caroline jealous, and she later flirts with Nick. Nick is upset when he finds out Caroline has a boyfriend, and hides out in a photobooth until Jess convinces him to leave. They smile at each other and Nick looks like he genuinely likes Jess.
Nick tells Jess to come with him and when they're on the dancefloor, he does the chicken dance to 'A Groovy Kind of Love' and they both have fun.
In the episode nude
Jess accidentally walked in on Nick when he was naked and dancing to Jamaican music - she saw his penis, laughed and hurried out of the room. She is convinced that to make things even she has to let Nick see her naked, and so goes into his room only wearing a towel, unaware that he has brought a girl over. Later, he admits that he saw 'everything'.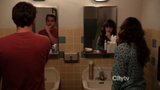 In '
Cece Crashes
',
Cece
tells Jess that she thinks Nick is really into her and that he gets her. Jess freaks out when Nick's feet point at her as Cece told her a guy's feet point at what they want. He later buys her a rose and she runs away. That night they see each other in the bathroom as they are brushing their teeth, Jess apologises about acting weird, and neither of them notice that their feet were pointing at each other.
Nick doesn't get on with Paul , the guy Jess is trying to impress in 'Thanksgiving ', and this prompts him to wonder if something was going on between Jess and Nick. In 'The Landlord' Nick got very protective of Jess when the landlord came over to fix things in the apartment, thinking he wanted to sleep with her. They almost took part in a threesome with the landlord.

While playing football, Jess falls on Nick. She asks him what he needs and he says "nothing from you." Later, when he crashes his car, Jess helps him out of the car and assists him. She brings him to her O.B. GYN friend so he can have a free
consultation about his injury.
At the bar, Jess sits in front of Nick, trying to cheer him up. He tells her that she can't speak at his funeral. She says "what?" and he repeats that she shouldn't speak at his funeral and she just says "okay" to appease him, but he also says that she doesn't know how to be real. Her smile fades.
When the others are rapping and singing the "saddest song in the world," Jess says, "Nick Miller, Nick Miller, never does anything" with a deadpan
look to get "real." She asks Nick if there was anything he's always wanted to do. They go the beach and he tries to skinny dip. She asks him if he's okay and he yells that he is 'not ok' about finding out if he has cancer tomorrow.
Jess sits beside Nick. He says that he's not going to remember anything that happened that night the next day.
He tells her that he likes her a lot and is glad she's around. She says that they should go home but they fall asleep beside each other on the beach.
In the car, Nick asks Jess what happened last night and he says "nothing." He smiles at her and Jess looks at him
In 'Tomatoes ' Jess breaks up with her boyfriend, Russell , claiming that she wants passion (which they don't have) - 'even if it's harder and hurts more.' She comes home to see that Caroline is there, and she and Nick have a fight, and at one point Jess appears to sense some sort of 'passion'.
Nick plans to move out of the loft in '
See Ya
,' and Jess is the most upset by this. Later in the desert after Nick freaks out, Jess tells him she wants him to be happy, even if that means him moving in with Caroline, and that she'll be fine because she met him. Nick then goes home to Caroline the next day, however that night, Jess sees the moving van from her window, opens her door and sees Nick standing by his door. They smile at each other and Jess is glad he didn't move out. They both dance in their rooms to 'You Shook Me All Night Long'.
Re-Launch
' Jess loses her job. When Nick finds out he is the first to move to comfort her. She gets a one-time job as a shot-girl at Schmidt's re-launch party, and tells Nick to stop feeling sorry for her and to be mean to her. Nick helps her find the confidence to be a shot-girl, however Jess is upset about the fact that she is now just a shot-girl, claiming she's a teacher. Nick finds her sitting on a car at the school and comforts her, putting his arm around her and making her laugh.
Katie
' Jess goes 'off the grid'. She hangs out at Nick's bar and is interested in one of the delivery men she meets. She asks Nick to give him her number. Later, an
attractive man
comes up to her and asks if she's Katie. Jess lies and says she is. She later sleeps with the man. Meanwhile, Nick meets what he's told is a
future version of himself
. The next day, Nick goes along with Jess' Katie charade and pretends to be a dancer.
Bearclaw
' and goes to the bar to meet Sam. On her way Nick calls out 'Jess or Katie?' and Jess yells 'Not now.' Future Nick seriously tells him to apologise to her, and to make her an Old Fashioned. Nick is confused. Later at the loft he makes her an Old Fashioned, and when she asks why he tells her that in the future he might do something terrible to her and he hopes that she'll forgive him. She tells him that she will.
Sam
, however finds it hard to separate her feelings from casual sex. Nick takes her on a 'date' in '
Fluffer
' to make her feel as if she's having a date before sleeping with a guy. He is wowed by her attire. She then begins to rely on him for all her boyfriend-type needs, and
Winston
tells Nick that he's her 'emotional fluffer'.
Jess and Cece have a 'boob-fight' in 'Models ', and when she relates the story to Nick he tells her that he finds that arousing.
Halloween
' Nick finds out that Jess wants to be in a relationship with Sam, but later discovers that Sam is seeing others girls. Knowing Jess would be upset by this, he goes into the haunted house where she's working - which he is terrified of - to warn her. Scared when he sees her in her costume, he punches her in the face. Sam tells Jess he doesn't want a conventional relationship with her and dumps her. She is comforted by Nick, who tells her that she deserves to be with a guy who's crazy about her. Jess then punches him in the face to get her revenge.
Jess and Nick bond over water aerobics in 'Menzies ', and he is the one who gives her the push she needs to get a job.
In 'Santa ' Jess sees Sam again, who tells her that he wants her back. She's unwilling to believe that he means it, however when she talks to Nick about the situation he tells her that he thinks she's the kind of girl a guy would come back for.
Cooler
', the guys try to pick up girls, and because Jess is Nick's Cooler she stays at home. After a boring couple of hours, she hears creepy sounds. So, she texts Cece, who's on a date with a
guy
who actually DOES wanna have kids, Sam, her hot boyfriend, and Nick. Nick ignores it at first because there's a
girl
who turned on by his misery, but when Jess tells him she needs him, he comes immediately.Arriving home, it seems to be nothing and Nick actually smiles when he sees that Jess missed him and made a Nick-doll with a melon-face. While playing True American, Jess and Nick accidentally get locked up and will only be released when they kiss.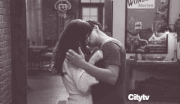 Sam, CeCe and her date arrive, and they cheer them on. Nick doesn't seem to have the nerves to kiss her, and Jess just wants to get it over with. Eventually Nick refuses to kiss her, saying 'not like this'. After failing to explain what he meant, he climbs out of the window and almost falls. Back in the living room, Sam thinks that Nick would rather jump out of a window than kiss Jess. Nick says he's an idiot, and Sam says he's missing out.
Later that night, Jess hears the noise again and calls Nick out of bed. Nick is wearing a trenchcoat and they find a dog; the owner sees her coat and leaves angry. When Jess goes back to her room, Nick suddenly grabs Jess' arm and kisses her; Jess kisses him back. After they break apart, Nick says, 'I meant something like that,' and goes back to his room while Jess stands in shock.
Table 34
' begins with Nick and Jess reeling from their kiss. Nick says 'argh, you kissed her! You kissed her, you idiot!' then punches the wall in frustration. Jess opens her bedroom door and Nick is standing there - he then 'panic moonwalks' away from her. Jess turns up at Cece's apartment, says 'Nick kissed me,' and CeCe is shocked. CeCe asks how he kissed her, and Jess says 'he just grabbed me, it was firm but tender, and he was a man and I was a woman...I saw through space and time for a minute but that's not the point.' The group later go to an Indian Marriage Convention, where Jess and Nick talk about the kiss - Nick claiming it didn't mean anything, Jess claiming it did. Nick then teases her saying it 'meant something to [her]'. In a table building competition, they angrily talk about the kiss, where Nick says that 'it was like a damn fairytale that kiss!'
Parking Spot
' between the two - Jess dresses seductively to make Nick give her the parking spot for the apartment, which he does, however later changes his mind saying that she was 'using the kiss'. He then says that he regrets the kiss and Jess runs off. He finds her in the apartment, and tells her he doesn't actually regret the kiss, only what happened after it. Jess brings up the 'no-nail oath' that all of the male roommates signed. She is annoyed that they thought she'd sleep with one of them like she just couldn't help it. Nick tells her that it was him, that he couldn't help it. Jess drops what she was holding in shock, and when Nick points this out she tells him to shut up. They have a 'moment', however then someone walks through the door.
TinFinity
', Jess is clearly feeling strange about Nick, and admits to CeCe that she can't stop thinking about the kiss and acts flustered around him. He asks if he had cupcake frosting on his lip, and Jess feels nervous and yells at him. When she is interested romantically in a very emotional man, Nick jokingly asks if she really wants a man who tells her about his feelings - then asks again seriously if it is, looking nervous. She then agrees to 'advertise' his disgusting porta potty. When Nick offers her a drink from his bottle of liquor, saying "it's just my mouth!" she awkwardly says she doesn't want to think about his mouth, and jumps out of a - stationary - hot air balloon. 
Quick Hardening Caulk
', which Jess finds attractive, telling CeCe that she wants him - '[she] wants him bad'. Nick reveals he's been sleeping with
his new boss
. Jess feels awkward around Nick, even more so when he shows her his newly blue underwear because he did laundry. They go to a hardware store where Jess stares lustfully at Nick yanking a chain. She then reads his shopping list which all have names that sound slightly sexual, turning her on even more. She then gets hit in the jaw by a plank and is knocked out.
That night Nick brings her hot soup while Jess is on pills for the pain. She is very drugged up. Suddenly, she throws her sheets off her and yells that she wants to have sex with Nick. Nick asks if she knows what she's saying, seeming interested. Jess then exhibits obvious signs of being completely under the influence of the pills, however pulls Nick down to her and try to sleep with him, saying 'this little piggy went to market'. Jess then bashes him in the face and Nick burns his hand in her soup.
you
? I'd be the worst golddigger in the world!' They have a brief friendly sort of argument about it, gradually getting closer to each other. Jess denies the fact that she may be a golddigger. Nick says, 'then prove it.' They look at each other, and Jess, knowing what he meant, tentatively kisses him. After a moment the pair begin to kiss passionately. They
Chicago
' Nick gets a call, and a few moments later tells the loftmates that his
dad
died. They all go to Chicago to attend the funeral. Nick is apparently the man of the house in his family, and is told he needs to plan an 'Elvis-themed funeral'.
Nick's mother
takes an instant dislike to Jess, and Nick's brother
Jamie
asks if they're doing it, to which Nick replies 'I'm begging you to shut up' - Jamie later asks Jess the same thing, and she avoids giving a response. Nick asks Jess if she'll write his dad's eulogy for him, and after a failed attempt she tells him she can't. He angrily leaves. Nick later turns up at the funeral drunk, and Jess takes him away to sober him up. She tells him that she's here for him. She sees that the man Nick hired to be an Elvis impersonator is in a bad way. She then walks into the funeral in the Elvis costume and sings 'In The Ghetto'.
First Date
', Nick is unable to stop himself from touching Jess' boobs. They make awkward conversation about this. Nick decides to ask Jess out on a date after talking to his magical silent best friend
Tran
. He originally plans to say something along the lines of 'Jessica, you are a beautiful woman. My life has not been the same since I met you and it would mean the world to me if you would go on a date with me.' Instead, flustered when the time comes, he rambles 'Jess. I-ca. Dirty-J, Dr. Day, my toilet sister. If so, food.' Jess, who is only wearing a towel, though confused agrees to get food with him later.
Nick asks Schmidt for clothes advice, and so Schmidt puts him in a suit and Winston shaves his face. After saying that his is meeting a girl called Yolanda Winston, Schmidt and Winston work out he is meeting Jess. Nick makes a reservation at a fancy restaurant and meets Jess there, who asks him if this was a date. He is nervous and laughs, lying and telling her it isn't. The meal is made more awkward when Russell - the only man Nick and Jess both loved - walks in. Jess and Nick decide to just get a drink as friends. 
Bachelorette Party
' Jess asks Nick to take care of CeCe's fiance for a while, and later she also asks him to get a picture of Shivrang's penis and send it to her. When the girls at the bacherlorette see the picture they are impressed, and when Nick and Shivrang arrive at the loft Jess compliments the penis they saw, calling it a 'prize hog.' Nick grins, and tells them it was actually his.
Teddy
, wants to meet up with her in '
Virgins
', and Nick is visibily unhappy about this. They gang share their stories of how they lost their virginity - during Jess' recount Nick comments uncomfortably a few times. In a flashback on Nick's, his dad tells him 'I just wanna make sure you don't miss out on the things in life that happen when you're not thinking… because, believe you me, those are the best things in life.' When Jess is about leave the loft, Nick calls her back and asks if Teddy was the kind of fireman who hung back and then rescued the dog, but apparently he 'straight up fought fires.' Jess asks Nick how he lost his virginity, to which he says, 'Alison Daniels. On a towel in the woods. I cried. She kept her bra on. It was nice.' Jess then gets a text from Teddy, which prompts her to leave. She asks Nick what he thinks, and he just looks at her, not saying anything. Jess looks back, then leaves the loft. She is in the elevator, about to go and meet Teddy when a hand stops the doors from closing. Nick is standing there. He walks into the elevator and picks Jess up bridal style. She asks what he's doing, and he tells her not to think about it. He carries her into his bedroom, and the two finally have sex.
Winston's Birthday
', Nick and Jess wake up in bed together. Nick asks her to wait for a second, and then he goes into the kitchen to bring her breakfast - he experiments with a flower in the beer bottle and behind his ear. As he's going back into his room with the breakfast, he runs into
Jess' father
, who has arrived for Cece's wedding. As Jess is offered the chance to teach kids again, Nick spends the day hanging out with her dad. At one point they talk about girls, and after initiallly protesting Nick admits there is a girl - called Yolanda Winston. And of course, 'she's not quirky. She's got no bangs. Tall, fat. Really ugly eyes, small, tiny little beady eyes.' When it appears that Bob Day and Nick are getting along well, Nick admits that the girl he likes is Jess. There's a moment of silence, then Bob yells that he's going to kill Nick and Nick runs away. Jess walks in just a Nick is surrendering all the 'weapons' he'd brought to protect himself against Bob just in case. Jess admits that they don't know what they are, and tells her dad not to judge Nick as he doesn't know him. Bob says that he does know Nick, saying 'You're me. And I'm not good enough for my little girl.'
Elizabeth
and later Winston, who believes that the food is for him and the telescope Schmidt's holding is too, for his surprise party. Jess and Nick look at each other before joining the party, and Nick appears to be thinking hard about what Jess' dad said.
Elaine's Big Day
' the roommates are about to have a group photo taken of them by Jess' dad. Jess and Nick are very close together, so Bob tells Nick to keep on taking steps away from her until he's in the hallway. The two arrive at the wedding together and agree being together - in any sense of the word - is nice. Schmidt later says he wants to ruin the wedding, and Jess tells him if he does then she will bust him hard, and then mutters to Nick, 'and later I'm gonna bust you hard.' Nick refuses to join in on the prank as Cece's wedding means to much to Jess, and Nick asks what happened to him. 'Either Jess wants the real you, or she don't.'
badger
. When Jess finds out she wrongly accused him of sabotaging the wedding, she joins him in the air duct, and they talk about their relationship. She admits there is a small part of her that's worried it is a mistake. They then fall through the air duct into the wedding ceremony.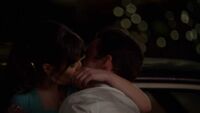 After the wedding is called off, Jess and Nick also unhappily decide to 'call it'. Nick goes to the bar to drink 'because that's [his] move.' Winston then tells him it was also his dad's move. 'But you know there are other moves?' This encourages Nick to run after Jess in the parking lot. Crying, she asks if they can 'un-call' it. Grinning, Nick walks up to her and kisses her. They get in the car and happily drive away - together.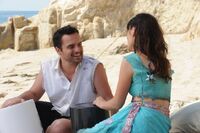 Jess and Nick get back to the apartment where Schmidt becomes crazy when he finds out that they're dating, and needs advice from Nick, but then Nick and Jess run away from the loft to the car.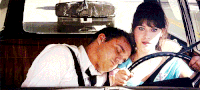 Jess and Nick begin driving and end up in Mexico. They try to relax on the beach but decide to go into the private hotel area instead. They don't have the bracelets showing they have paid to be there, so Nick steals one from a child to give to Jess, but doesn't have one himself so is arrested and put in 'hotel prison'. Jess panics, thinking he has been taken to actual mexican prison, so calls Schmidt and Winston to get them to come and help her get Nick out of jail.

Nick tells Jess that he's there for her for whatever she ne
eds and that he wants to be with her. Jess puts her hands on his neck and they kiss.
After everything, Schmidt blames Nick and Jess for the heartbreak and vows to break them up. Nick and Jess freak out. They decide to begin telling each other stuff Schmidt could use to hurt them and make them break up.
Schmidt tries to sabotage Jess and Nicks relationship.
Nick has a box full of his debt envelops. Jess secretly goes behind is back and pays the fees. Once Nick figures out they have a fight, and Nick throws Jess's purses out the window. Nick then realizes he would do anything for Jess, and he gets a bank account. Schmidt tries to do great things to prove he is a good person. Schmidt saves a guy's life (he was choking on food) and notices that bad things happen to good people.
Nick wants to go to a strip club just to please Coach, since it was what they used to do all the time with the guys. Jess asks if she could talk to Nick in private in her room, and Nick mistakenly thinks that she wants to have sex. Jess says that she's uncomfortable about him going to a strip club. Coach asks Nick if they're going and Nick says that he and Jess haven't had the boyfriend/girlfriend conversation. Jess is upset that he doesn't think that he's her boyfriend. Nick says that they haven't had the seeing other people conversation. Jess asks if he's seeing other people and he says no, and Nick asks if she's seeing other people and she says no. Nick says that they just haven't used the boyfriend/girlfriend terminology. Jess tells him to "knock yourself out."
Jess tells Cece that when Nick didn't think of him as her boyfriend, it hurt, so she wants to hurt him back by making him jealous.
Jess calls Nick and says that she's drunk with a guy at the bar. At the strip club, Nick says that he's going to leave because Jess is "sexy and sweet" so he's going to go see her. 
Nick arrives at the loft and enters Jess' room and sees the guy naked on her bed. Jess asks Nick to believe that "nothing happened and nothing was ever going to happen." Nick says that he believes her. She asks if he has any questions. He doesn't, and asks if she wants to have questions. Nick proceeds to crack his knuckles and tells the guy to "get out of my girlfriend's bed."
Jess is happy when Nick calls her his girlfriend.
Nick makes the 'girly' e-card with Jess and they invite the others to spend their thanksg
iving camping.
To please Nick, Jess eats the disgusting fish that he caught in the lake and swallows it.
Delirious, Jess falls in the trap Nick set up for a bear. Nick jumps in to save her.
In the hospital, Nick caresses Jess' face. She tells him that he's the man she wants.
Jess wants to be friends with Coach and pretends to like the Pistons basketball team which makes Nick mad because he's a Bulls fan and
tells Jess that his sex tap is off. This leads to Nick and Jess to having a sexy stand off to see who would come running back to one another.
Jess wears the Bulls jersey just to please Nick already but when she sees him, he's wearing the Pistons jersey just to please her. They kiss and do it while wearing the jerseys.
Nick has a surprise birthday party planned for Jess. She wakes up early on her birthday. They make breakfast in five minutes because Jess helped him. Nick suggests that they slow things down. They do it in the bedroom but it's the fastest it's ever taken and Nick says that it's because she just looked so pretty.
Nick suggests that they go take a nap but Jess says that it's a beautiful day out so they go to the park. Jess thinks that he didn't plan anything and sees a birthday party set up in the park and mistakenly thinks that it's for her.
Jess tells Nick that it's "great for you" that he had a day planned full of eggs, sex, and a long walk in the park because he's not the kind of guy who plans things. Nick says "maybe I am." Jess runs home and tells him not to follow her.
Jess goes to the movies and Nick says that his plan might actually work. When Jess is in the cinema, the screen plays a video of Nick, he sits next to her, and in the video he tells her to look under her chair. After reading the note, the others are in the cinema and they surprise her. In the birthday video Nick shows the coin that he had in his pocket the first night they kissed and says that he always has it.
They're about to make Jess blow the cake but she is gone, and Nick goes outside the theater to apologize because it was cheesy and embarrassing, but Jess kisses him and says "that's the nicest thing anyone's ever done for me."
Jess asks Nick which shoe she should wear. He says that she looks great in everything. She later comes out in a black dress and he says that she's looks great. Nick tells Jess that he loves her for the first time. Jess panicks and points finger guns at him. Nick says that it just slipped out because she looked so pretty.
Nick tries to get into Prince's party take it back and say that he didn't mean it when he did. Nick gets into the party and Jess says that she's so happy to see him. She's about to tell him she loves him but she gets a panic attack and faints. 
When Jess regains consciousness Nick takes it back. Later in the night, Nick says that he's not sorry he said it and Jess puts her finger on his lips and whispers in his ear that she loves him. Nick says that he couldn't hear her because it's very loud. Jess shouts "I love you! I love you Nick Miller!" Nick smiles and they kiss twice.
Nick and Jess link arms while walking and they kiss. Nick didn't tell Caroline that they were together. Nick says that Jess is leading Berkley on.
Jess tries to make Berkley leave but Nick tells him to stay. She doesn't want Nick to go to Caroline and leave her alone with Berkley. Nick says "Oh my God, I was right. He wants to bone you." Jess says, "Oh come on, Nick." Nick lets Berkley continue talking to Jess just to mouth "I was right" to Jess. Nick tells Berkley that they're not trying to hook up Nick with his ex Caroline.
Caroline tells Jess to shut up and Nick tells her not to take it out on Jess. Caroline tells Jess that one day she'll be the ex. Jess says that she's going to go sit in the shower and go over the greatest hits in her mind. Nick goes to the shower that is off to check up on Jess and asks if she's okay. Crying, Jess says "no" and that it's the worst thing that's ever happened to her. She tells Nick that he was right about everything, but he says that he's not, and that she should also hear about why he left Caroline.
Jess tells Nick that he doesn't have to do it but Nick says that he does. He tells Caroline that he might as well have cheated on her, because he fell in love with Jess the moment she walked through the door. Jess looks at Nick with wide eyes and says, "the moment I walked through the door" and Nick nods. Caroline says that she always thought that it was Jess.
Jess says, "the moment I walked through that door, huh." Nick tells her to just be cool about it. Jess says that for her, it was "waaay later." Nick says that he knows and they kiss.
Nick and Jess realize that the only thing they have in common is that they love each other, and they admit to each other that they miss being friends, so they break up.
Nick wakes up in his bed and reads his writing on his hand that says that he and Jess broke up. He finds Jess changing in the closet because they aren't allowed to see each other naked anymore. He closes his eyes while trying to get his clothes but then he accidentally touches her. They both tell each other that they're handling the breakup well. They pretend to be a couple for the day and continue to pretend that they're okay. Nick attends to each and every one of Winston's wants in order to busy himself from thinking about the breakup.
Jess goes to Cece to tell her about the breakup and Cece tells her to ask Nick how he really feels. Meanwhile, Nick confesses to Coach that he and Jess broke up and that he's not okay, so Coach tells him to take Schmidt's anxiety pills.
On the day of the Honeyroast, Jess asks her "boyfriend" if she can talk to him and asks him how he's really feeling. Nick says that he is "amazing."
Jess gets fed up and turns the Honeyroast into an actual roast and says that "the worst thing about Nick is that he's okay." and that she isn't. Nick tells her that he isn't and that he's on Schmidt's anxiety pills and Jess laughs.
They tell the others that they obviously already knew about the breakup.
Jess lies on the couch watching Dirty Dancing with tissues strewn all over the table and Nick calls her while drinking in his room. She runs out of tissues and Nick throws her a new box. Over the phone, he says "Goodnight honey."
Nick and Jess invite their friends to join them on a cruise. When purchasing the cruise, they were drunk on wine and Jess was on Nick's lap and they kiss. 
On the cruise ship, the female captain welcomes them all on the ship, Nick salutes to her, and Jess laughs and says that the captain was flirting with her when she wasn't, as if bothered by it.
After the first day of doing the "grand romance package", they drink wine together. Nick makes Jess a rosette. They look at each other and he puts his hand on her shoulder. He leans in to kiss her, but she says no, licking her ear instead, making the situation awkward. He says it was a "mistake", done "not on purpose." They say that it's because of the special romance package, so they decide to spend time on two completely different parts of the ship and avoid each other. Schmidt, Coach, Cece and Winston tell the captain to make an announcement to get Nick and Jess together. 
They get locked in the room together. Jess says that when Nick brings a "hoebag" home, she's "gonna beat her ass." They make sexual metaphors that confuses the others if they want to get back together or not and look at each other and smile. They share the same awkward hug they did in 'Mars Landing'.
At this point in the show, it has been revealed that Jess and Nick will likely not get together for a while. Although the entire staff of New Girl do not know, and have not thought about Nick and Jess getting back together, it is unanimously agreed that it is overwhelmingly likely to happen at some point. Zooey and Jake (Jess and Nick) have talked about their character's relationship and have boiled it down to this: Jess and Nick are two adults in a TV show about falling apart and building yourself back up. According to them,
this relationship, complicated as it was, made them look too perfect. But, they also have made it clear that as funny as this may be, fans will always want any and all of their characters from every show to ultimately achieve happiness. Jess and Nick have no way to have a completely platonic relationship or to stay away from each other, so everyone seems to have agreed that to achieve happiness, particularly in a relationship, these two have no choice but to end up together for good (Jake Johnson let it slip that it would be best, and probably will happen, at a later date in a finale).
Swuit Jess makes Nick and Schmidt treat each other like the boss. They find out and Nick yells nice things at her, saying that it was really sweet of her.
At the bar, Jess picks a song on the jukebox and dances in front of Nick. He tells her that his girlfriend broke up with him for being too ambitious. She says that she's sorry.
Nick says that since Ryan barely calls and calls in the middle of the night, Jess has been doing Nick hours (?)
At the winery, Jess keeps checking her bag to see if Ryan called, even when the phone isn't ringing, and Nick appears to feel bad for her and tells her to just take her phone out.
Jess says that Ryan isn't coming, and Nick is the first to hang is head down and sigh, probably because he cares about her. She tells him to just say that Ryan isn't coming because he's a "blank" and a "blank", but instead he lies and says that they were all excited to go on Jess' tour of Oregon, just to cheer her up.
Nick tells the others that "I'm not happy with what Ryan's doing, it's not cool." He tells Jess to give him her purse and says, "no more checking in with Ryan. Tour starts now." She manages a small smile.
Jess sits beside Cece on the mobile tricycle while Nick jogs beside Jess listening to her give them a tour.
When they resume the tour, Jess asks Nick if she can have her phone back and she immediately, casually, but sincerely says, "you know what, I don't care."
When Jess cries goes to her bedroom and puts on music, Nick goes to her to give her her phone and her purse and tells her to "text Ryan as much as you want, it's none of my business." She tells him about her fake dream guys and he exasperatedly says that "the only thing that matters, is if the guy is there for you when you need him. Otherwise, you're dating a wall." Jess gets upset and leaves and Nick says, "I was coming here as a friend, Jess--"
Nick and Coach ride a bicycle to go get the rings in Jess' purse.
Jess tells Nick that "you were right. He should've been here. I need a guy who shows up."
Jess tells Nick about "crush pond" and how throwing a rock into it and saying the name of your crush makes them love you forever. Coach tries to guess Nick's crush and Nick says to say the name of someone Coach knows. The crush Nick is thinking about is most likely Jess. Jess says, "To whomever you are, I really hope to meet you. And I hope you live close by." This most likely pertains to Nick.
Nick tells Jess that she's the least qualified person to be a 'love doctor' because she dated him.
When Coach and May reunite, Nick and Jess hug in the recording studio. While hugging Jess, Nick rubs her back. He tells her that she was the reason they reunited. 
Jess asks Nick if he thinks about who he sees himself next to in 40-50 years and says, "Who  do you see yourself next to," in a nonchalantly interested voice. He says "Winston." and Jess says, "Me too."
Nick and Jess tell the others about their "sex mug" and they explain that when they were dating, they set the "ass" part on it out to let the other know that they're "aroused without arousing suspicion." Nick says that when the "ass" part is out, it was time to "bone" but at the same time, Jess says, "make love." Jess has a confused face then Nick agrees and says, "make love."
Schmidt says that they can throw it away already since they're not using it anymore, but Winston says that he saw the mug out last night. Nick says that he was the one who put it out, but when he walks away, he looks at Jess with a puzzled look. Jess goes to Nick's room and thanks him for covering for her. He asks her why she put the mug out and she says that it was because of the time when he was working out. She asks him if there was ever anything she did that made him want to put the mug out, and he says that there wasn't.
Nick let it slip that when she is in her little towel after taking a shower, he thinks about it.
They agree that "it's time" to throw the mug away. While everyone is 'asleep', Nick goes to the trash can to possibly retrieve the mug, but is surprised to find that it's gone. Later, Jess checks the trash can too but the mug isn't there. Winston uses the "perfectly good mug" for his cat.
Season 5
When Jess enters her room, she finds Nick on her bed. He says, "I missed you, kid." and she says, "I missed you too."