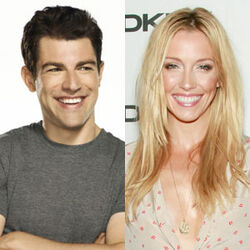 Fox's newest comedy, New Girl is getting the CW treatment! A popular blonde actress who starred on Supernatural, Gossip Girl AND Melrose Place will be guest starring in an episode of New Girl this fall! Need a hint? It's Katie Cassidy!
Formerly cast as conniving Juliet of Gossip Girl and demoness Ruby in Supernatural, Cassidy is no stranger to heartbreaker roles. In New Girl, the lovely Cassidy will play a guest at a wedding reception who catches one of the three hunky roommates's eyes. Will she steal Schmidt away from from Jessica Day? At least for that day she will.
Are you excited to see Katie Cassidy in New Girl? Tell us in the comments!